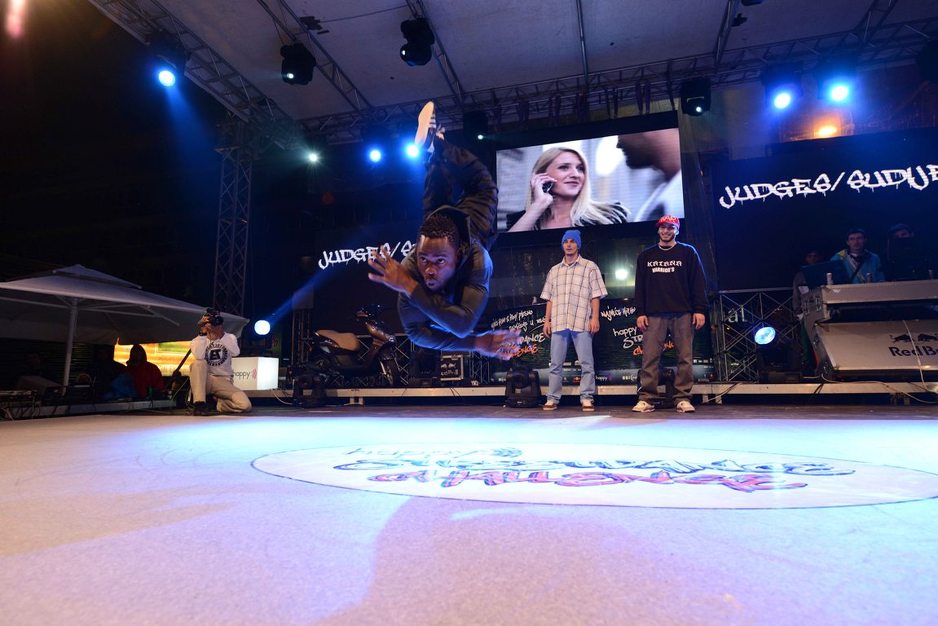 Bboy Junior / Judges Show
Uspješno je završeno najveće balkansko hip hop i breakdance takmičenje, koje se održalo na Trgu ispred BBI Centra.
Najveće balkansko takmičenje u hip hop i breakdanceu Happy :))) Street Dance Challenge 2013, u organizaciji BBI Centra i udruženja ProAcademia, obilježilo je više od 300 takmičara, od kojih su samo 32 ekipe prošle u finalni program održan u subotu.


Rezultati takmičenja:
Hip hop 2vs2
1. mjesto - Zama / Street Feet Academy & Kakarot / Fenix Crew - Sarajevo i Niš
2. mjesto - Alka & Ida - Zagreb
3. mjesto dijele - Tarik Dzeni / Fresh Generation - Sarajevo
Dirty Angels Crew - Tuzla
Bboy 2vs2 (Breakdance)
1. mjesto - Goofy & Padre / Yugoslavian bboys - Bijeljina i Novi Sad
2. mjesto - AMCII & Energy Flow - Malme
3. mjesto dijele - Students of Rhythm - Beograd
Lulu Tung & Anni - Velika Kladuša
Koreografije
1. mjesto - Artifex, Ljubljana
2. mjesto - Street Feet Academy, Sarajevo
3. mjesto - Fenix Crew, Niš


Sudije takmičenja bile su: Junior, Pariz (jedan od najpoznatijih bboyeva širom svijeta, čiji su videoklipovi među najgledanijima na YouTubeu, pobjednik francuskog takmičenja Incroyable Talent, Battle of The Year 2001. godine, svjetskog bboy takmičenja u Londonu 2004. godine) i Ukay, Dusseldorf (pobjednik brojnih hip hop takmičenja: Battle Zone – Rusija, Cercle Underground hip hop 2010 i 2013 – Francuska, Street Dance Cemp 2008 – Bboy, 2009 – hip hop, Funkin Stylez Germany (grupno takmičenje) 2010 i 2011, kao i hip hop – Funkin Stylez 2010, Hip Hop Forever Amsterdam 1. edition – Hip Hop i Juste debout Paris House 2013.)
Generalni partner događaja je najsretnija mreža u BiH: happy:))) Ove godine izvršnu produkciju događaja realizira Udruženje kreativaca i sportista ProAcademia i Marketing agencija B40. Projekt su podržali: Red Bull, Peugeot, MTV, Produkcija Source, Hayat Music, Antena Sarajevo, Klix.ba, crna ovca, Urban Magazin, te hostel Massimo.